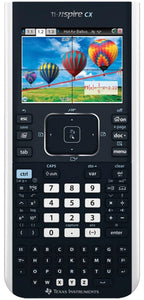 Our calculators are fully tested and inspected by our team of expert technicians.  You get the same long lasting calculator at a great price.
1-Year Warranty:
We offer a 1-year warranty. No questions asked.
Package Contents:
Includes refurbished calculator, slide cover, rechargeable battery, and USB cable.
PRODUCT DESCRIPTION:

The TI-Nspire™ CX graphing calculator's innovative capabilities support teaching strategies that research has found accelerate understanding of complex mathematic and scientific concepts.
FEATURES:

Backlit Display | Screen Size: 320 x 240 Pixels (3.2" Diagonal) 

Screen Resolution: 125 DPI; 16-Bit Color

100 MB Storage Memory / 64MB Operating Memory

Electronically Upgradeable Graphing Handheld Allows You to Have the Most Up-To-Date Functionality

TI-ComputerLink Software Allow Information to be Transferred To and From a Computer

Computer Algebra System (CAS) capabilities

Function, Parametric, Polar, Sequence & 3D Graphing

Multiple Graphing Functions Can be Defined, Saved, Graphed and Analyzed at one time

User-Defined List Names in Lists & Spreadsheet

Eleven Interactive Zoom Features
Suggested Courses:
Pre-Algebra, Algebra 1, Algebra 2, Linear Algebra, Geometry, Trigonometry, Pre-Calculus, Calculus, Biology, Physics, Chemistry, Statistics, AP Statistics, AP Calculus, College Algebra, College Calculus, Engineering and Financial Functions
Exam Acceptance:
AP Calculus*, AP Physics*, AP Statistics*, AP Chemistry*, SAT* I/II, PSAT/NMSQT*, ACT*, IB exam
Customer Reviews:
"I bought a refurbished TI-83 from Topcalcs, and it works great for my college classes. I did not want to buy a new one since Texas Instruments charges too much for an old calculator." - David
"The most durable calculator I've ever had. If you have just one of these calculators, 1 is all you'll ever need provided you don't lose it. You'll likely lose it before it ever breaks. I own one from 7th grade that I have now owned for 15 years." - Lindsey