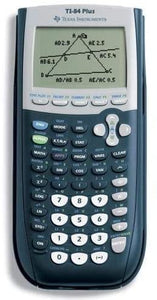 Our calculators are fully tested and inspected by our team of expert technicians.  You get the same long lasting calculator at a great price!
1-Year Warranty:

We offer a 1-year warranty. No questions asked.
Package Contents:
Includes refurbished calculator, slide cover, and battery cover.  Batteries and accessories sold separately.
Product Description:
The Texas Instruments TI-84 Plus graphing calculator can be used for many function. The TI-84 Plus calculator is easy to use and is perfect for math and science classes including algebra, geometry, trigonometry, pre-calculus, calculus, physics, chemistry, and biology. This model is enhanced with Flash memory for flexibility in adding calculator programs for additional functionality.
FEATURES:

3x the memory and 2.5x the speed of the TI-83 Plus.
16-character, 8-line di

splay

480KB flash memory, 24KB RAM

Fully compatible with the TI-83 Plus

13 preloaded Handheld Software Applications, including Cabri Jr.
7 different graphing styles help to differentiate graphs
Advanced statistics functions, including hypothesis testing and calculation of confidence intervals
Complex number calculations
Financial functions, including time value of money, cash flow and amortization
Probability distributions

Complex number calculations
Suggested Courses:
Algebra 1, Algebra 2, Geometry, Trigonometry, Pre-Calculus, Calculus, Biology, Physics, Chemistry, Statistics, AP Statistics, AP Calculus, College Algebra, College Calculus, Engineering and Financial Functions
Exam Acceptance:
AP Calculus*, AP Physics*, AP Statistics*, AP Chemistry*, SAT* I/II, PSAT/NMSQT*
Customer Reviews:
"I bought a refurbished TI-83 from Topcalcs, and it works great for my college classes. I did not want to buy a new one since Texas Instruments charges too much for an old calculator." - David
"The most durable calculator I've ever had. If you have just one of these calculators, 1 is all you'll ever need provided you don't lose it. You'll likely lose it before it ever breaks. I own one from 7th grade that I have now owned for 15 years." - Lindsey